| | | |
| --- | --- | --- |
| | Press Clippings | |
Sydney Morning Herald - Sat 9 Dec 2000
Below is an extract of a review of Muggs WebSite which appeared in SMH under "Launch sites" in "ICON"
"By Nick Galvin
Saturday, December 9, 2000

Muggaccinos - Sunday Cyclists < http://www.muggaccinos.com>
This mob of recreational pedal-pushers espouses the motto "hills are your friends" and tackle Sydney's longest, most painful, arduous inclines on Sunday mornings. Personally, I think they should consider getting some new friends. But if you want to join them, all the details are laid out in this idiosyncratic site."
Reproduced below is an article from "Push On" insert in May 2000 edition of Australian Cyclist Magazine.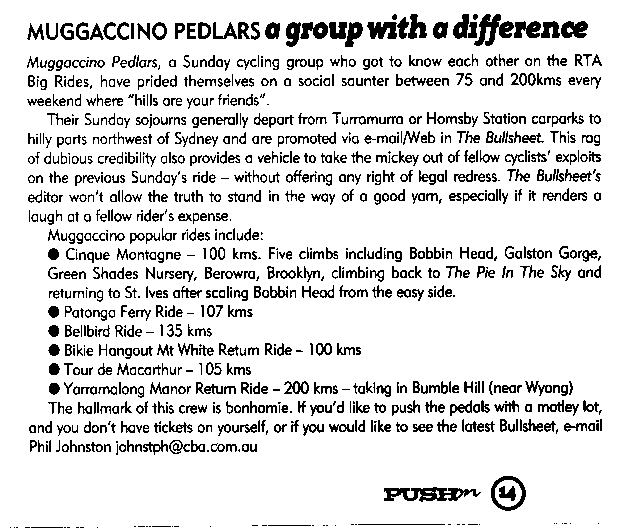 Below is an extract from the Home Page of Australia's eminent networking website www.bicycle.net.au on 21 Dec '03:
"14.12.2003 Muggaccinos
The newest link on bicycles.net.au is Muggaccinos and is truly worthy of a mention with a novel approach to cycling. It is a cycling club originating from a group of Royal North Shore Hospital nurses who needed a hangover cure on Sunday's. The solution is:
a) riding 75km to 200km each weekend apparently to
b) the best coffee shops in Sydney with
c) a group of misfits who don't take 'emselve's too seriously.

Muggaccinos put the fun back into cycling."

Click on article in late May '05 on Muggs' inaugural Cinderella Century ride.

"Volunteering can give you a Warm Fuzzy".