2014 Tour de Conquer Dolomites and Ortler Alps - 18 days continuous climbing - Wed, 13 Aug to Sat, 30 Aug 2014 inclusive - Three Base Camps
Schedule of 16 Completed Climb Days and pics in Tour Italia (Dolomites and Ortler Alps) - August 2014
1st Tour de Conquer in Sept. '12 to Le Rhone Alps and Mont Ventoux (5 participant Climbers) and 2nd Tour de Conquer in Sept. '13 to Le Rhone Alps (7 participant Climbers) were highly cost-effective and memorable - see a zillion pics.
Scott aka PatternMaker, Phil aka BankTeller, David aka CricketTragic, Jean aka ChiliDog, Syd aka MotorMechanic and Dave aka Maverick have purchased the same QANTAS/Emirates ticket which departs Sydney at 4:05pm on Monday, 11 Aug '14, on QF1.
We have booked a 9 seater van thru Hertz - see email - to move the 6 of us, together with bikes (3 bikes affixed to the bike-rack) to drive:
* 340km to 1st Base Camp at Camping Colfosco (1.2km West of Corvara) on Tues 12 Aug `14
* 143km West to our B&B at Pension Astoria, Schmiedgasse 1, Prato allo Stelvio on Thurs 21st Aug for 2 of our 3 ascents of Stelvio
* 62km S/W to Appartmento Stella, Bormio on Sat 23rd Aug for 7 nights in Bormio - 7 climb days
* 198km from 3rd Base Camp at Bormio SSW, via Lake Como, back to Milan on Sat, 30th August.
Ipso facto, the template is set out herein for additional climbers to climb the Italian legends, Stelvio, Gavia & Mortirolo, staying in your own flat. A chance of a lifetime "to live the dream." Our 21 days in Italy - air fares where you can bring your own bike in your luggage allowance, travel/bike insurance, van rental, accommodation, food and alcohol - is 21 Days Budget of $5,743AUD.
1st Base Camp at Camping Colfosco (1.2km WNW of Corvara) (61km East of Bolzano) - 9 nights - 8⅓ climb days

2nd Base Camp at Pension Astoria, Schmiedgasse 1, Prato allo Stelvio - 2 nights - 2 climb days

3rd Base Camp at Appartmento Stella, Bormio (130km West of Bolzano) - 7 nights - 7 climb days

* Depart Sydney 4:05pm Monday 11th Aug '14 - Arrive Milan 8:25am Tues 12th Aug '14 - Arrive 1st Base Camp 3pm Tues 12th Aug '14

* Depart 1st Base Camp Thurs 21st Aug '14 drive east to arrive at 2nd Base Camp same day

* Depart 2nd Base Camp Sat 23rd Aug '14 drive 22km SW to 3rd Base Camp same day

* Depart 3rd Base Camp 12:30pm Sat 30th Aug '14 - Arrive Milan 5pm Sat 30th Aug '14 - see Milan Sunday and Monday

* Depart Milan 10:20pm Monday, 1st Sept '14 - Arrive Sydney early morning Wed, 3rd Sept '14

Milan (LHS) A Colfosco/Corvara (RHS) B

Corvara (RHS) A Prato allo Stelvio B (LHS)

Prato allo Stelvio A to Bormio Lombardy (LHS) B is 62km not 22km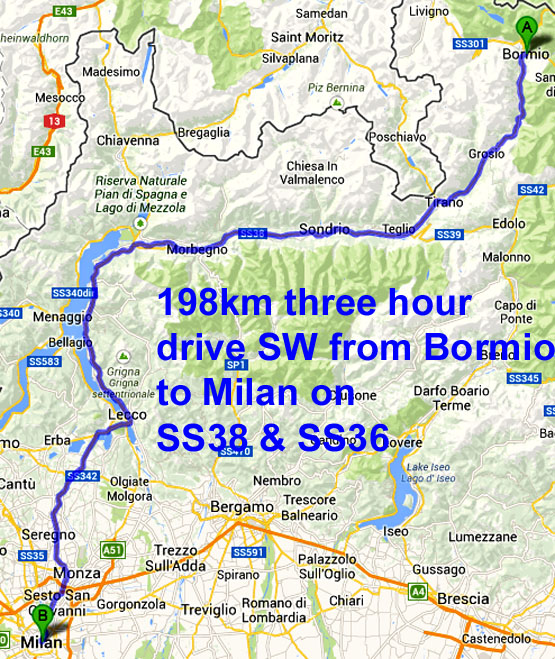 Bormio Lombardy (RHS) A Milan (LHS) B
------------------------------------------------------------------------------------------------------------------------------------------------------------------------------------------------
1st Base Camp at Colfosco, Badia 1,550m altitude - 8 Famous Dolomites climbs start from nearby Corvara
------------------------------------------------------------------------------------------------------------------------------------------------------------------------------------------------------

2nd Base Camp at Prato allo Stelvio 915m altitude - 2 Famous Stelvio climbs
------------------------------------------------------------------------------------------------------------------------------------------------------------------------------------------------------
3rd Base Camp at Bormio, Lombardy 994m altitude - 11 Famous climbs in the Ortler Alps start from Bormio
------------------------------------------------------------------------------------------------------------------------------------------------------------------------------------------------------
Our goal is to Conquer 46 Cols/Montagnes, with an aggregate vert. ascent of 36,443 metres, riding 1,146km
------------------------------------------------------------------------------------------------------------------------------------------------------------------------------------------------------
4 accommodation bookings and van booking correspondence and documentation, plus 'Costs Reconciliation Spreadsheets'
------------------------------------------------------------------------------------------------------------------------------------------------------------------------------------------------------
Alan from the Lake District: 5 rides in the Ortlers from Bormio in 2008
6 rides in the Dolomites from Arabba in 2009
------------------------------------------------------------------------------------------------------------------------------------------------------------------------------------------------------
Weather websites: www.snow-forecast.com www.bergfex.com
Corvara and Bormio ave temps over last three years (as at 20th Aug reading)
Summer holidays in Italy are from mid-June up to the second week of Sept - we visit peak season, because the window for warm weather is short

http://www.bikerentalsplus.com/index.php?id=47
Public transport options to/from Corvara (Colfosco) Badia (1st Base Camp) and Bormio, Lombardy (3rd Base Camp)
Public transport from Munich Germany and Innsbruck Austria to Corvara, Badia and return